OFFSHORE WORKSHOP CONTAINERS

Gauthiers' is a leading supplier of offshore workshop containers. Our offshore workshops meet most of the most stringent rules and regulations. Gauthiers' specializes in the following:
DNV 2.7-1 Standard for Certification of Offshore Containers-June 2013
DNV 2.7-2 Standard for Certification of Offshore Service Modules-May 2013
DNV 2.7-3 Standard for Certification of Offshore Portable Units-May 2011
BS EN 12079 Part 1 Offshore Containers-Design, Manufacture And Marking 2006
BS EN 12079 Part 2 Lifting Sets-Design, Manufacture And Marking 2006
BS EN 12079 Part 3 Periodic Inspection, examination And Testing 2006
IMO MSC/CIR. 860: Guidelines for the Approval of Offshore Containers Handled in Open Seas
New Standards Soon To Be Released:
ISO 10855 Offshore Containers and Associated Lifting Sets (Part 1: Offshore Container – Design, Manufacture and Marking)
API 2CCU: Offshore Cargo Container Design, Manufacturing and Inspection
Our experts can fabricate units of all sizes to meet the specific needs of our customers upon request. In the past, we have completed projects with customized features ranging from worktops and shelving to interior cranes, hoists and intricate machinery. Our professionals are available for consultation for interior options, benches/vices, electrical coding (IEC - zone 1 and zone 2, NEC - Class 1 Div 2, ATEX), climate control, insulation packages, and design layouts. If you can dream of it, we can build it. The options are endless. Give us a call to get started on your customized offshore workshop.
Our Offshore Workshop Containers feature:
Surface Protection
Available Door Options
Available Window Packages
Air Conditioning/Ventilation
Interior Wall Packages
Shelving and Desk Options
Flooring
Electrical Packages
Engineering Prints and Drafts
EXAMPLES OF OUR OFFSHORE WORKSHOP CONTAINERS: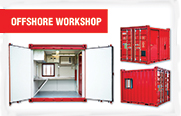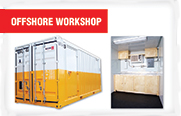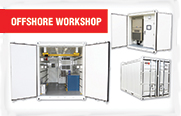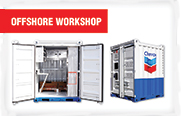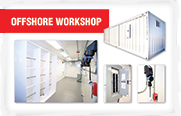 To view our offshore fleet please visit Modex

OTC
International Assoc. of Drilling Contracters

>Learn more
DNV 2.7-1 Certified Offshore
Containers-Offshore Tanks
>Learn more